Reduce the watering of your riding surface!
A responsible use of the valuable resource water is a local and global issue. The increasing scarcity of water requires modern technologies and innovations.
Water will become an even scarcer resource in the future, even if this year's summer in Germany is rated as rainy. The impacts and severity of drought and dryness have been felt in large parts of Europe in recent years. Agriculture, forestry, and nature in particular have highlighted the water stress. According to UNESCO in 2020, 26 percent of the world's population (2 billion people) did not have access to a safe drinking water supply, and this number is at risk of further increasing due to various factors, such as climate change, a growing world population, economic and consumer behavior, and water pollution.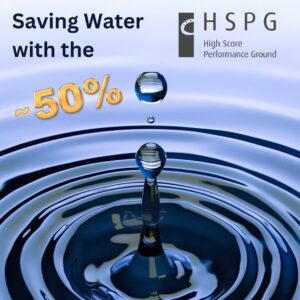 Reasons enough that speak for a water-saving riding surface!
A balanced water management of a riding surface is crucial for optimal riding properties. It has an influence on safe, horse-friendly and professional training as well as on the competitive conditions of competitions.
The requirements include optimizing the water retention and permeability of a riding surface. Necessary water should be retained in the riding surface and excess water should be quickly drained into tanks.
The High Score Performance Ground (HSPG) demonstrates significant potential for reducing water consumption in field and laboratory tests. With HSPG as an ebb and flow system, it is possible to save 50% of water on hot summer days compared to traditional riding arenas. The HSPG elastic mat distributes the water more evenly in the footing and showed 45% water savings in a laboratory test at the Osnabrück University of Applied Sciences (Prof. Heinrich 2012).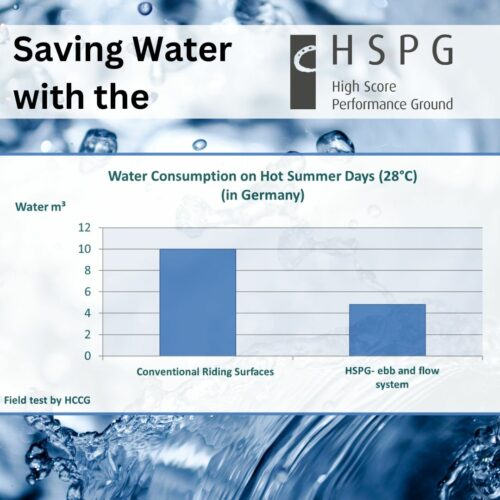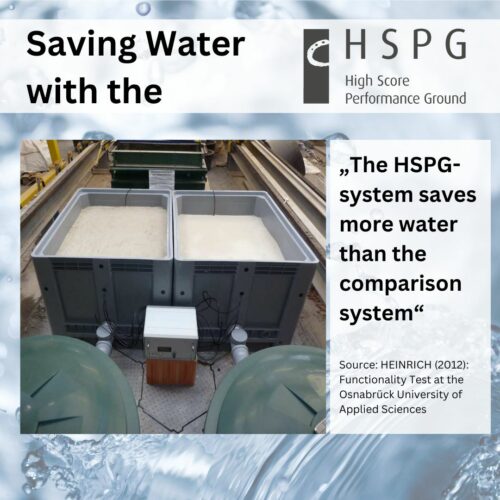 Even during extreme weather conditions or prolonged periods of rain, the HSPG, as an ebb and flow system, removes excess water three times faster than riding surfaces without the HSPG elastic mat. The Ebeling family from California had excellent practical experiences with HSPG, as their newly constructed riding arena easily handled the rainfall from an El Niño event without any issues and was ready for use the next day.